Birch Wood Dowels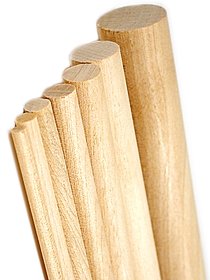 Hardwood dowels are great for models, art projects and many more.
Rated by: George Tuton in Seattle, WA
Excellent item and exactly what was needed for this project.
Rated by: Ken M. in W. Lebanon, NH
I purchased three different wood products and rather than write a review for each, I'll just say the products were as expected. The real value was in the careful packing, reasonable prices, and rapid shipping. The order was treated as though it represented many, many more dollars than it actually cost. Ken M., W. Lebanon, NH
Rated by: Pat J. in Rock Island, IL
You were the only supplier we could find with the correct diameter of wood dowel we needed for a project. Great service too.
Rated by: Nilda G. in Bronx, NY
I was more than pleased when I opened the boxes containing the sturdy and smooth dowels that children are going to use in my many puppetry projects. They're finished in a smooth natural tone that doesn't require any additional work, unless we decide to paint them. Great economical buy for many different projects, other than puppets.
Rated by: Katie M. in Rolla, MO
For the price I was very pleased with the product. My dowels were uniform and sturdy.
Rated by: Wendy T. in Mesa, AZ
I was very pleased with the Midwest Maple Wood Dowels. The fact that the color of wood in all the dowels was uniform was a true delight. I was actually able to use them in a pinwheel project and didn't have to paint them first because they all matched.
Rated by: Suzanne S. in Cedar Rapids, IA
Using for a craft project so I cut them down to my desired length. They are good quality dowels and the price was very good.
Sorry, that is not a valid email address.
Please try again.
Thanks for subscribing to the
MisterArt.com email program!