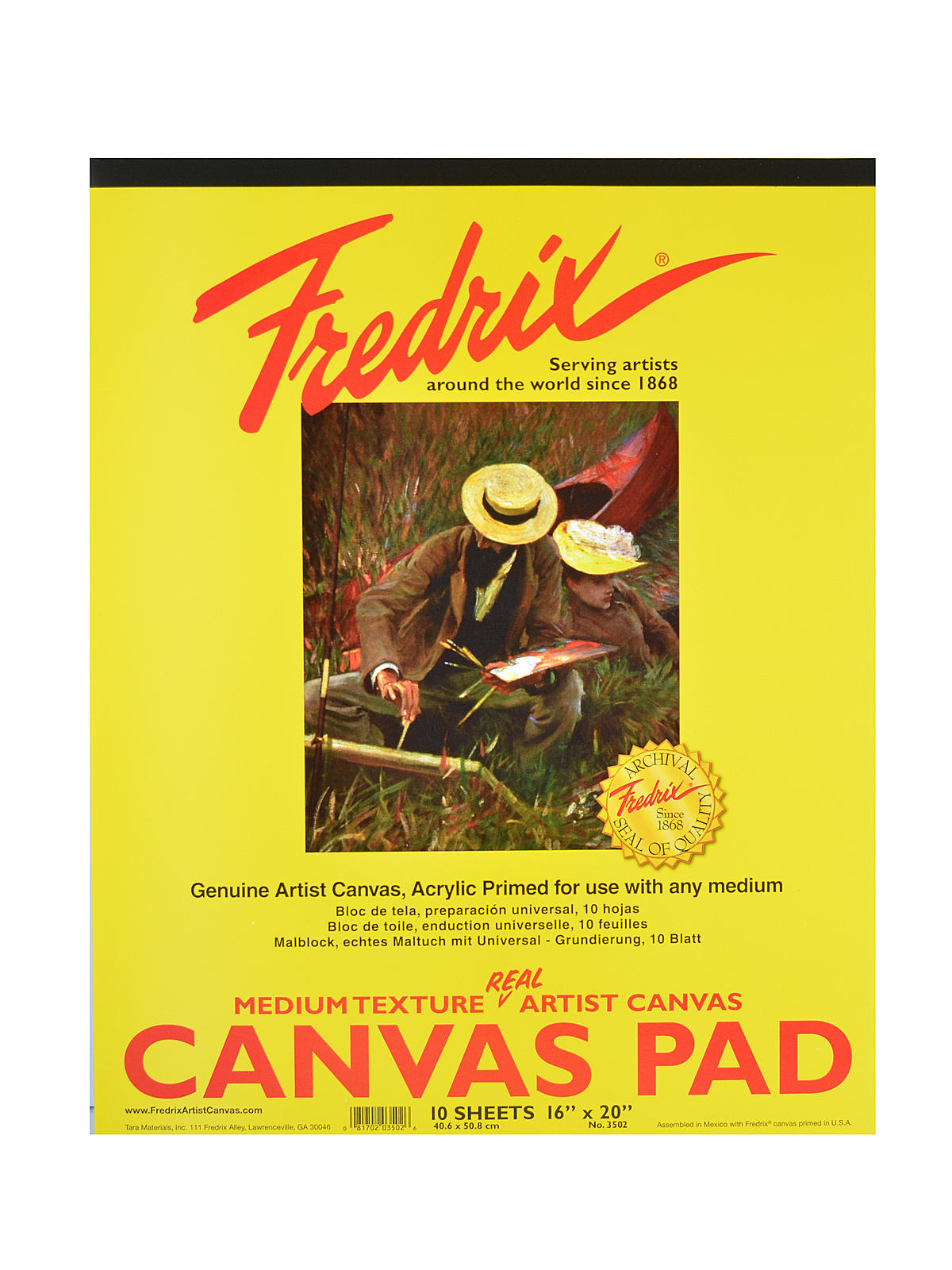 Genuine artist canvas, acrylic primed for use with any medium. Pads contain 10 sheets.
Rated by: middle school art teacher in Denver CO
I am a middle school art teacher and have used these canvases for my art students for years. One side has gesso applied for immediate painting. Canvas accepts acrylic very nicely and when dry, rolls up conveniently. It comes in a variety of sizes, but I prefer the 16 x 20. The only negative thing about working in the larger format is that it is more expensive to mat the work when it is completed, but it is very impressive on the larger format.
Rated by: Kathie B in Sweet Valley Pa
I use acrylic paints and these are so wonderful to work on plus they are not hard to lug around. Our local craft stores quit handling them and I was thrilled to find them on line. They arrived so fast. Can't beat the price or the fast shipping anywhere. Thanks so much.
Rated by: Kathie B in Sweet Valley Pa
This is just the perfect size for any project. Its easy to frame and to work with and you cannot beat the value.
Rated by: Kathie B in Sweet Valley Pa
WOW what a deal. I was so happy to find these on line at such a great price. This canvas is excellent to work on. Love this web site for a lot of things.
Rated by: Michael W. in Bolivia, NC
Very good quality at a very good price.
Rated by: deborah h. in crescent mills, CA
My son is an artist, and just got an airbrush, which I'm not familiar with. This product was a definite winner when I gifted it to him.
Rated by: Ray T. in Boise, ID
This is an excellent product. I like it better than other paper products I have used.
Rated by: Pearl J. in Richmond, IN
Fantastic!
Rated by: Bill P. in Murrieta, CA
If you're into painting on canvas, I recommend this pad. It takes acrylic paint beautifully (I don't paint with oils). I like it much better than paper. I use it for practice paintings and studies. It's archival, so if you get a painting you really like, you can mount it on board and expect it to last. And, the price is hard to beat.
Rated by: joseph n. in shelton, CT
I really love this canvas pad. I cut it to fit my scanner and print my sketch on it.
Rated by: Leslie R. in Pittsburgh, PA
I am very pleased with the quality and value!
Rated by: Holly J K. in Magdalena, NM
These are so useful. They are sturdy and hold up well with most mediums.
Rated by: Jeannie A. in batlimore, MD
Good value. Works well - a little floppy.
Rated by: Ron S. in oblong, IL
these canvas sheets are of great quality,great for practice and finished paintings.good price and Misterart.com always does a great job packing their shipments..
Rated by: Toni B. in Ohatchee, AL
Frederix canvas pads are the perfect weight & texture & perfectly primed. I also like the fact that the unprimed side sticks to my drafting table so the pad stays in place without slipping. I previously painted only on stretched canvas, but after using Frederix canvas pads, I have a new favorite!
Rated by: Robin C. in Clemson, SC
I love these pads. I create acrylic and canvas collages and these canvas pads are by far the best. No rolling or warping like the non streched counterparts and the texture is perfect.
Rated by: Ron S. in Oblong, IL
These canvas pads are great,good for practice,or to paint your masterpiece on.And as all other Misterart.com products, well worth the money.
Rated by: Carolyn C. in Long Beach, WA
I like the canvas pad, I am going to be teaching my daughter grid art and this are the perfect size.
Rated by: Gary J. in Encinitas, CA
Very portable way to take sketching canvas on a trip. I am taking these pads with me on a trip to Africa.
Rated by: Amanda T. in Columbus, OH
I love this canvas! Not only does it come in a variety of sizes, but it's in an easy-tear style booklet. This is great for beginners or "experimenting" w/ ideas. This is better than paper and easier to store than traditional stretched canvas.
Rated by: Yolanda V. in palmdale, CA
wonderful, wonderful....makes all the difference in the world from regular watercolor/acrylic paper...
Rated by: cary m. in louisville, KY
i really like these canvas pads. the tooth is especially good and the canvas is full bodied. the cardboard backing is heavy and supports the canvas well. i paint with water soluable oil paint and am happy with my finished product on this canvas. my neighbor, who does oil pastels says it would be good for pastels, too.
Rated by: Miriam F. in Lakewood, NJ
I had used Bienfang before, and decided to try Fredrix, since it seemed to have a name for better quality. I was surprised, when comparing the two: The Bienfang paper was much stronger and stiffer. My students had to tape the Fredrix to a stiff backing, whereas I had not had that problem with Bienfang. Also, the Bienfang seemed to have a thicker coating of primer, than the Fredrix.
Rated by: Barbara M. in Springfield, VT
Great service, prompt delivery. The canvas pads work well with acrylic paints. Very pleased.
Rated by: Shannon F. in Upper Marlboro, MD
I love it. Its just as good as canvas except without the wood. Its great for practice. It after all is real canvas.
Sorry, that is not a valid email address.
Please try again.
Thanks for subscribing to the
MisterArt.com email program!