Eternal Black Writing Ink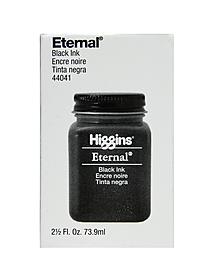 A permanent carbon writing ink for all office work readied for reproduction. Excellent for penmanship. Useable in any fountain pen.
Rated by: Teri F. in Dunkirk, MD
Great Ink. Use it all the time for copperplate.
Rated by: Teresa F. in dunkirk, MD
Great Product. Use it always for copperplate calligraphy for great flow in the nibs.
Rated by: Teresa F. in Dunkirk, MD
Love this ink. It's been around forever and no doubts why. It allows for the thinnest of hairlines in copperplate.
Rated by: Teresa F. in Dunkirk, MD
I love this product as the best even flow through the nibs used for copperplate calligraphy
Rated by: Tammy S. in Overland Park, KS
this is great for trace paper...does not smear!
Rated by: Cheryl A. in bristol, CT
This was the top brand recommended and much superior to any others I have tested so far. Great ink, beautiful deep color, very rich.
Rated by: Don N. in Hinckley, IL
I prefer Higgins ink to all the rest. This company has been around many years and has a good reputation as a quality dip pen ink.
Rated by: Bernard T. in Hobart, IN
Nice dark rich black color. It is ideal for dip-ink pens. I use it for writing Chinese characters, and am quite pleased with it.
Rated by: sandra s. in shreveport, LA
have been using this ink for 20 years for addressing wedding invitations, doing camera ready work and one of a kind script art... it is the best.
Rated by: Robert M. in Palmyra, VA
The ink is top notch. I've been a mchanical Draftsman for fifty years and never had better. I wish to compliment MisterArt.com They were extremely friendly & business-like. I will gladly trade at this site again.
Sorry, that is not a valid email address.
Please try again.
Thanks for subscribing to the
MisterArt.com email program!