Color Coding Labels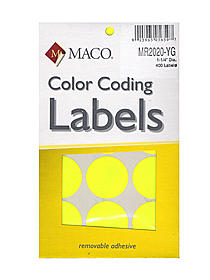 Bright labels gets your information noticed! Great for organizing, inventory, price coding, etc. Removable adhesive.
Rated by: Suzanne S. in Crawley, WV
Very easy to work with. Highly Recommend!!!! Ships very fast.
Rated by: Terry P. in Sanger, CA
I work at an elementary school.The books in our library are color coded with Maco labels. It makes it easier for students to find books on their reading level. I tried to order them from the large companies we had been using, Office Depot, OfficeMax & School Specialty. They no longer carried the color I needed. MisterArt has them. The price is reasonable & the delivery was quick. Thanks to MisterArt, we don't have to relabel an entire level of library books!
Rated by: Lynnann S. in Jackson, MI
Color coding labels great price lowest price around compared to all the big office suppliers. Very happy with this product. Will continue to buy in the future.
Rated by: N L. in Springfield, VA
Best price I've found on the web. $2 cheaper than St_pl__ and Office _____. However, quantities we order are not always available so we end up paying double shipping.
Rated by: Crystal S. in Dorton, KY
Best price I've found anywhere on these labels! They are great for color-coding my accelerated reader collection in the school library.
Sorry, that is not a valid email address.
Please try again.
Thanks for subscribing to the
MisterArt.com email program!