Armature Wire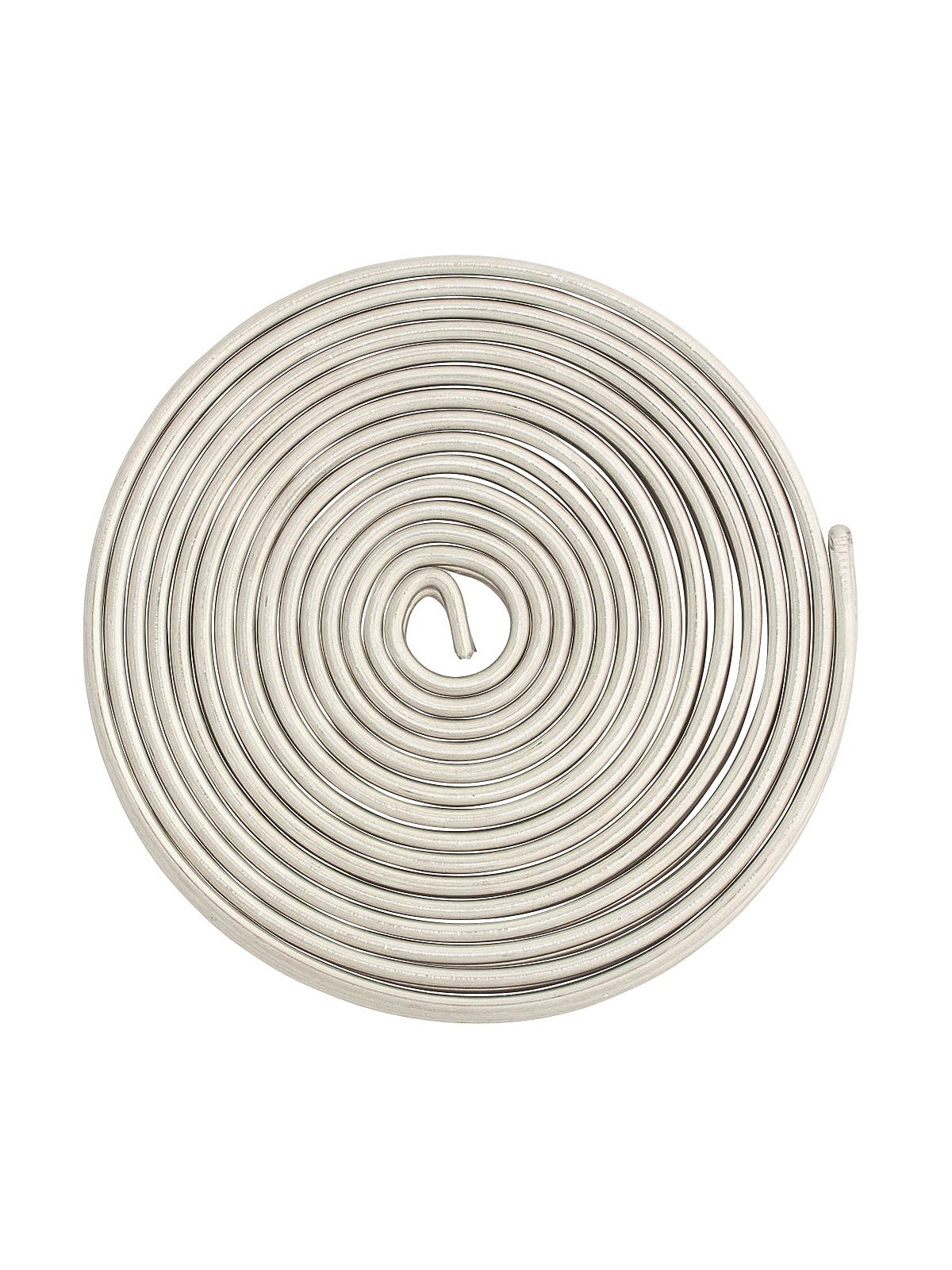 Noncorrosive, light weight, fully pliable, nonstaining aluminum wire. With armature wire, create the structure that keeps sculpture together and standing.
Rated by: J. E. Henry in Western Washington, USA
Great Product! It really got my artwork off the ground! THe best part is that I didn't have to fight the Seattle City traffic to get it, through MisterArt.com, the wire was send direct to my frontdoor and I actually saved money by doing so! When I need more supplies, MisterArt.com will be the first place I will look!
Rated by: Kay S. in St. Peters, MO
Many years I wasted my money buying this wire at a local craft store. You got very little for the price. After placing my order and using this wire in doll making, not only is it better quality, but I get so much more for the money..
Rated by: Cheryl K. in Ponte Vedra Beach, FL
I really enjoyed working with the wire. Thank you, Nikki for referring me to this type of wire. Fast Service on Delivery, too.
Rated by: Melissa M. in Tuskahoma, OK
I haven't used much of this particular brand of wire, but so far I've been very happy with it. It bends easily and is good for making armatures. I gave this four stars because I actually think I slightly prefer AMACO brand, but this is definitely worth a buy too.
Rated by: Wanda M. in Minneapolis, MN
This wire is awesome to work with - it is light, easy to bend and smooth - I love it! Highly recommend!
Rated by: a r. in sonoma county, CA
This wire was way too soft. I tried to make a 24" standing pose but the wire flip flopped all over and wouldn't hold the pose. For the same gage wire using sculpture house armature wire I had no problems whatsoever with a 24" figure but I made the mistake of trying this jack richardson wire because it was cheaper...Big mistake! I lost the money for the package I opened and the cost of shipping both ways.
Rated by: Nikki T. in Newton, NC
I love this product! I can't find it anywhere else and it's perfect. I use it to come up with new styles of jewelry before I make them in Sterling Silver.
Rated by: Ingrid R. in Grand Rapids, MI
This is a great product that I can't find anywhere else but Mister Art. Their shipping time is great! If I run out of product on Monday, I know I'll have more by the end of the week.
Rated by: Autumn N. in New York, NY
This is a terrific product! The gauge is just right for very easy shaping but still sturdy enough to hold its shape once you bent it. A great value, perfect for creating wire picture holders.
Rated by: Jennifer M. in Atlanta, GA
Great wire for wrapping. Soft, but also stays put. Only complaint is that it discolors over time with exposure to water/ washing.
Rated by: Janna C. in Carson City, NV
Great product. Bends easily by hand, cuts easily with wire cutters.
Rated by: kathleen f. in glastonbury, CT
This was perfect for "wall words"!
Rated by: james .jr. C. in St. Louis, MO
Armature wire was as advertised/described and received in good order in good time. An excellent product worthy of being the core of any sculpture or other project requiring fashionable base to work from.
Rated by: Monica F. in Attleboro, MA
I have been very pleased with this product. I will order again, again, and again. Thanks!!
Rated by: Jackie B. in Berwyn, PA
Excellent product, very easy to work with. We love this product and will definately continue to use it.
Rated by: Libby W. in Alpharetta, GA
great for armature of art dolls, easy to shape but still holds up well
Rated by: Nicole W. in Laughlin, NV
This armature wire is most important to my work. Nothing else works like it. I was impressed by your selection of gauges, and even more impressed by the price!!! You are now my sole source for this product. Thank you
Rated by: Pam R. in kennesaw, GA
I have been to all the local craft and hobby stores to look for this gauge wire. Heavy enough, yet easily manipulated for crafts. Was very pleased to find it on this site and the price was right!
Rated by: Debby C. in Denver, CO
This is the perfect wire for those paper flowers whose stems must vary in length (not suitable the 18" or smaller, precut wire). It handles very well, curves perfectly and cuts easily. Highly recommend.
Rated by: Joseph L. in Winston-Salem, NC
This wire is perfect for clay animation armatures. Easily manipulated, and no "bounce-back."
Rated by: Ingrid R. in Grand Rapids, MI
I couldn't find this wire at any local craft stores, so your website saved the day. I received my order quickly and I feel the prices are very reasonable.
Rated by: Jeannie O. in Sedalia, MO
I so needed this! I received it fast and just fine.
Rated by: LeeAnne P. in Clayton, NC
Quality product, excellent price, fast delivery.
Rated by: Batgirl B. in San Leandro, CA
Prices are great, and shipping is fast! Very happy with product. Thanks!
Rated by: Diane La L. in Anadarko, OK
Your prices are the best! The only place I found this wire locally was very overpriced. The wire worked great for my projects, very forgiving and easy to work with. Your speedy delivery was icing on the cake!
Rated by: Tom J. in Hillsboro, OR
I've looked everywhere for this armature wire and found it on the internet at Mr. Art the first time I looked. I had great customer service, shipping was very fast, and the wire is the greatest. Absolutely the most perfect wire I could ask for in creating my wire sculpting with glass. Thanks again!
Rated by: Andrea B. in Ozark, AL
Everything about this wire is great! It's easy to manipulate in the application I use it for, which is decorating wine glasses. Pricing is wonderful as well. I'm looking forward to using it in more craft applications.
Rated by: Stanley G. in Gearhart, OR
The Almaloy Armature Wire is amazingly versatile in building sculpture frames. I was pleased at the pliability and durability of the wire as I worked with it.
Rated by: Janet G. in Brooklyn, NY
This wire has a nice feel to it and does not need a lot of effort in manipulating it. I would like to see it have a little less give with the projects I am working with but none the less it is a pleasure to utilize.
Rated by: Garroll P. in Greenville, SC
This wire is great for wire art projects on glass or picture frames. Great value. Checked at least 6 other sites for price. Nobody comes close to matching this price. Would like to see better packaging.
Rated by: Clarke T. in Salt Lake City, UT
Good product! This wire is great for making armatures for clay sculptures as well as bendable foam puppets for animation.
Sorry, that is not a valid email address.
Please try again.
Thanks for subscribing to the
MisterArt.com email program!