Exhibition L Pins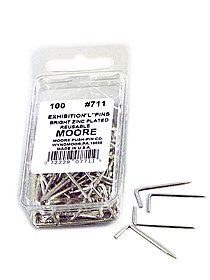 Reusable, zinc-plated L pins for hanging flat pictures and posters without damage. Pins are 1 in. x 3/8 in.
Rated by: CF in Dallas, TX
This was the best price I found ,including shipping. Also a very prompt delivery. I expect the pins will do what I want them to in terms of the installation.
Rated by: nomi s. in glenville, CT
did exactly what it was supposed to, arrived on time, no problems
Rated by: Lindsay M. in Tampa, FL
L-pins were the answers to my problems. Shipped to me in record time, very satisfied.
Rated by: Kathleen L. in Nashville, TN
The pins worked well to hang the prints for our show. If you are working with walls that are plaster, or otherwise very hard, you need to drill a hole first and then stick the pin in. If you hammer the pin in, it breaks.
Rated by: Darrell T. in Cedar Falls, IA
MisterArt! is fast, efficient, and professional. Moore exhibition L pins are actually of higher quality than the brand I usually order, and I received them only days after the order was placed. Our current children's art exhibition went up without a hitch thanks to this quick response.
Rated by: ann c. in Champaign, IL
The Moore Pins worked exceptionally well for the childrens' art exhibit we just installed. They provided an economical way to professionally present a disparate range of sizes of art work. This also helped to unify the presentation. I recommend the single weight or about 1/8 inch glass. We predrilled holes in the drywall with 1/16 inch drill bit, which made installation a breeze. I do wish they offered a product with a threaded shaft for more grip in the wall to use with larger pieces of glass.
Rated by: G. T. in Vallejo, CA
I learned about exhibition L pins when I was in college. When I had a photography show, I exhbited my photos on the wall with panes of glass and used the L pins to secure them on wall. This is a simple and inexpensive way to show artwork. It is give a seamless and elegant look to your photographs. It took me several years to locate these exhibition L pins online and now I have www.MisterArt.com listed as my favorite bookmarks.
Sorry, that is not a valid email address.
Please try again.
Thanks for subscribing to the
MisterArt.com email program!