Dry Cleaning Pad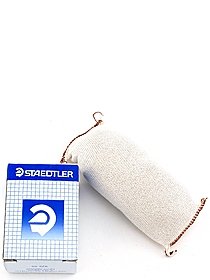 Cleaning pad contains grit-free powder which absorbs dirt and other particles from paper and vellum surfaces.
Rated by: Cheryl A. in Bristol, CT
I read this was a great way to clean up smudges on finished paper works. It is and it works great!! Everyone that uses paper needs one! Unless you want them dirty =)
Rated by: Susan S. in Edison, NJ
I got the dry cleaning pad to clean mold from books. It worked great! It even cleans itself afterward.
Rated by: joey b. in Charlotte, NC
I use this product to keep my drawings free from lead smears. It works great.
Rated by: vincent b. in Faison, NC
this product work really well cleaning my bristol board surfaces after a finish drawing.
Rated by: Sherry C. in New Orleans, LA
Good deal on a standard drafting supply.
Rated by: Lee Dya H. in Washington, DC
THis is great to remove graphite from any drawings...Thanks to this I now have flawless drawings.
Sorry, that is not a valid email address.
Please try again.
Thanks for subscribing to the
MisterArt.com email program!