Boxwood Tools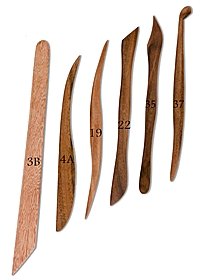 Handmade, hand polished with a natural finish for modeling and sculpting clay.
Rated by: vic d. in shawnee, KS
Used the rounded end when working especially on eyes and teeth on clay portraits...easy to hold...easy to use...nice size.
Rated by: Frances F. in Miami, FL
The tool is ok however the rounded part of the tool should be bigger. I have one which is similar and I wanted to get another one to switch off. It works but not as well as the original one I have.
Sorry, that is not a valid email address.
Please try again.
Thanks for subscribing to the
MisterArt.com email program!