Water Colour Iridescent Medium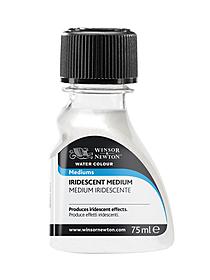 When mixed with watercolor, this medium gives an iridescent, glittery effect.
Rated by: Jane T. in Kitty Hawk, NC
I love this product. I ordered two bottles and I'm glad I did. It adds a new dimension and a sparkle to water, stars, eyes all kinds of things. I look for something in every painting to use this on.
Rated by: Patricia M. in Carlsbad, CA
This medium is FUN - I bought it to use on my Christmas card painting but am beginning to think of other uses as well.
Rated by: Donna Q. in Woodlyn, PA
I used this to give a metallic look to a watercolor painting of a roller coaster---it looked great! The ladies at my class were very intrigued with this product!
Rated by: Debbie N. in Collinsville, MS
This medium is GREAT!! I'm glad that I ordered 2 bottles of it. It's fun and really helps put a sparkle in your watercolor paintings. I will definitely order this again!
Rated by: Susan P. in Williamsburg, VA
Fun Product! Wonderful for the glint of a dragonfly's body or wings and for a nice shimmering atmosphere against blues in your earthy compositions.
Rated by: Yari G. in Allentown, PA
I had so much fun w/ this medium. It gave my painting a great glitter effect. I love it.
Sorry, that is not a valid email address.
Please try again.
Thanks for subscribing to the
MisterArt.com email program!