Cubbyware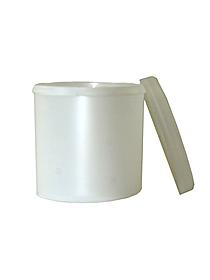 Reusable, stackable, non-breakable 1 oz. containers with resealable snap-on lids. Great for mixing paints or storing small parts.
Rated by: Linda C. in Kingman, AZ
use mine to save my medium without evaporation
Rated by: Alice C. in Raleigh, NC
Was concerned about quality for price, but found these containers were an excellent value! Secure lids hold liquid in without issues, and they are easy to open, clean up, & reuse. Will buy more.
Rated by: Cheryl A. in Bristol, CT
I bought this to hold paints, Methyl Cellulose, Solvents and Water. It is great to use for when i work outside and need small amounts of any liquid. Very durable and watertight, wont open if dropped, or knocked over. This is a great quality and it has so many uses and applications. You wont be disappointed, great bargain, great price.
Rated by: Devon N. in Valley Springs, CA
Drop them or kick them, they will not break. Knock them over, if the lid is on, they will not spill. The ideal storage container for the klutz or drunkard! And delightful for normal people, too.
Rated by: margaret C. in Grayslake, IL
I found these little pots helpful for storage of mixed paints. However, a smaller container probably would have worked better for me.
Rated by: PRISCILLA V. in kew gardens, NY
These one ounce Cubbyware plastic containers are terrific. I am not the neatest person in the world and have found that with the screw lid containers paint tends to dry around the rim and I can't get the lid off. What I do when I'm painting is take a color and produce 11 gradients of tone. 11 Cubbyware containers will fit into one of those rectangular plastic containers that you get take-out in sometimes. When I'm done with a color I use the lids to save the paint and it lasts forever (almost). These things are awesome.
Rated by: Kelly C. in Camden, NC
These little containers are great, I have to say they're made well and the size is perfect. I only have one problem...the paint I store in them is thin and if I open and close them several times during a facepainting event, I wind up with paint all over my hands. The product itself is of a superior quality, however if you're going to be shaking your paints and will need to open and close them often, I would recommend a container with a screw-on lid...great product but perhaps not quite suited to my individual needs... I hope this tidbit helps someone else out there.
Rated by: Stephen S. in Salt Lake City, UT
I use these for Watercolor and Acrylic paint storage and they keep paint fresh for weeks which is a real plus for the acrylics. They are a perfect size.
Rated by: William R. in creativetown, IL
A great item for all kinds of medium and good for small parts as well. I buy gesso by the quart and use the Cubbyware to store a small portion to take with me when painting on location.
Rated by: Colleen H. in Nashville, TN
A necessity for mixing acrylic paints and keeping them from drying out.
Sorry, that is not a valid email address.
Please try again.
Thanks for subscribing to the
MisterArt.com email program!