Metal Conceal Shelf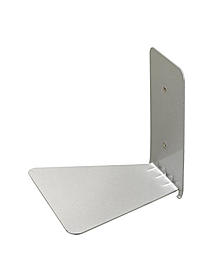 A metal floating book shelf which becomes completely hidden when filled with books.
type: large
dimensions: 5 1/2 in. x 7 in. x 6 1/2 in.
color: silver


Manu #330633-560

Item #69625

Non-Member
$15.00
10% off

VIP Member
$13.34
20% off
Rated by: Chris in Valdosta , Ga
I love how the different sizes allow for different book sizes to look suspended against the wall. I'll definitely be getting more of these!
Sorry, that is not a valid email address.
Please try again.
Thanks for subscribing to the
MisterArt.com email program!