Ebony Graphite Drawing Pencils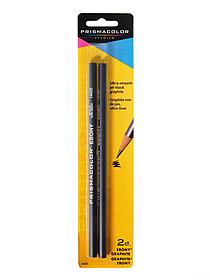 Pencils feature a large diameter lead for sketching smooth, jet black lines. Available individually or in a pack of 2.
Rated by: kristine in little rock, AR
I remember using this pencil in art class. This is a perfect pencil for geting all shades - gray to black. Comes out smooth. Love it and would get it again.
Rated by: Cheryl L. in San Antonio, TX
My kids enjoy using these pencils during art lessons. Great product and fun to use.
Rated by: Pearl N. in Globe, AZ
I have always loved Ebony pencils, since I first "discovered" them when I began teaching elementary art in the early 1970s. I continue to use them in my adult drawing classes, and recommend them to students.
Rated by: jennifer f. in lomita, CA
I am using these pencils with art students ranging from 5 to 13 years of age. The pencils are quite smooth, delivering strong marks with ease, yet the child is also able to lighten the marks by applying lighter pressure. A wonderful pencil choice for young art students (and the teacher enjoys them, too).
Rated by: Steven R. in NY, NY
If you only use graphite, especially if you use it for tone, be sure to try these - they produce a firm, far blacker line that offsets from graphite very crisply.
Rated by: Linda D. in Shawnee, OK
Great value for this quality pencil. I sent two high school freshmen to their first still life competition, with these pencils. They came back with first and second place.
Rated by: Courtney S. in eldersburg, MD
These work pretty well. I just like the dark colors, really adds a lot of contrst to ur picture (which EVERYONE of my professors is telling me is probably one of the most important things abotu design.) with little effort.
Rated by: Anne S H. in Tucson, AZ
Excellent for pencil portraits and for sketching. Dark, and darker when sprayed with fixative. Relatively indelible, which I like.
Rated by: Van T. in Tulsa, OK
Very soft and dark pencil. I have not found much use for mine yet, but they are a very good quality pencil...especially if you want to smooth dark lines.
Rated by: John N. in Camden, NJ
Solid pencils. Highly recommended.
Rated by: Brenda E. in Denver, CO
The ebony pencil is a delight to handle. The soft lead allows one to work from a light to very dark mark by varying the pressure. Shading is easy and smooth. Great for the professional and students. I always have ebony pencils on hand for myself and for my students.
Sorry, that is not a valid email address.
Please try again.
Thanks for subscribing to the
MisterArt.com email program!