Conical Marker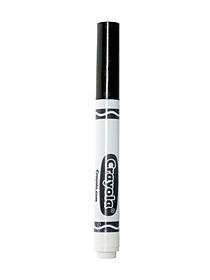 Cone shape tip washable black marker. Bold black lines, easy grip, non-toxic, great for kids.
Rated by: Dave in Anaheim, CA
By far, the best pen ever for caricature work at events! Also great for calligraphy, script lettering styles and bold lettering, all from one pen! No offensive/harmful vapors either. Highly recommended!
Rated by: Okie Artist in Poteau, OKlahoma
I am also a caricature artist spinning the globe. I discovered how well these markers worked for drawing a few years ago. This discovery saved me a lot of money as I go through many markers in my business. I love the cone time that doesn't wear down on me. I have the ability to shift easily from thin to thick lines. Many events I draw at include children, so this is also a safer option for them. There's no turning back for me. Crayola is the best!
Rated by: John B. in Atlanta, GA
In over 30 years of purveying caricatures around the globe, this is the most articulate and responsive marker I've encountered. It's more economical and won't dry up unexpectedly like alcohol-based markers. I'll swear by them.
Sorry, that is not a valid email address.
Please try again.
Thanks for subscribing to the
MisterArt.com email program!