Luma Bleed Proof White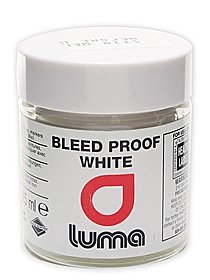 Bleed Proof opaque watercolor covers dyes, markers and designers' colors. Brush on. 1 oz. (29.5 ml).
Rated by: Carol S. in Cincinnati, Oh
The Luma bleed-proof white is an excellent product. I use it for mixing with gouache and watercolors to clean up edges in my paintings.
Rated by: katherine g. in Kansas City, MO
I have been using Luma for many years, for graphics, when I worked in the sign business, as a watercolorist, and in my current job as a 'white-out' for cleaning up patent and trade-mark drawings and specimens. It's opaque, water-soluble, odorless and a joy to work with. I also like that it thins with water to a consistency that keeps it flush with the page (not thick and globby) which cuts down on shadows from the photocopier. I highly recommend Luma.
Rated by: Ruth T. in Niles, OH
Oh, I love this stuff! I've been using it as a blending and thickening agent for my watercolors forever. It rocks! Give it a shot!
Rated by: Leah F. in Hastings On Hudson, NY
I used this when I was in college ( in another century) and when my twelve year old stepson started to seriously get into cartooning I gave him a bottle. He thinks it's as great as I did.
Rated by: Denise N. in Toronto, AZ
i have always found luma white to serve my purposes very well
Sorry, that is not a valid email address.
Please try again.
Thanks for subscribing to the
MisterArt.com email program!