Artist Chamois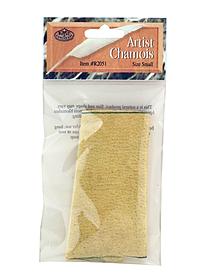 High quality select soft and pliable chamois skins for artist use. 5 in. x 7 in. piece.
Rated by: Josh H. in glendora, CA
works well except it tends to fall apart after minimal use, getting chamois fibres all over artwork
Rated by: Jason R. in Alpharetta, GA
It was a little stiffer then I would have wanted but still did its job well.
Rated by: Medusa M. in NO, CA
This chamois skin worked fine. Not too thick, not too thin. I followed the instructions and washed it before use. It made it much more useable.
Rated by: Todd M. and C. H. in Portland, OR
I use this chamois when drawing for blending, wiping away, and some cleanup. It is very thin and lightweight. Affordable and gets the job done.
Sorry, that is not a valid email address.
Please try again.
Thanks for subscribing to the
MisterArt.com email program!