Glitter Crayons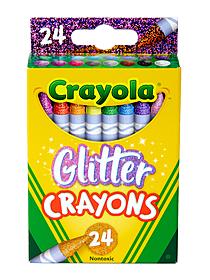 These crayons have glitter inside which makes kids' designs sparkle! Box of 16. Recommended for kids 3 and up.
Rated by: Stephanie P. in Raleigh, NC
My kids love them, even if they do require a little more pressure than the regular ones. Very nice on darker paper for accents.
Rated by: stephanie h. in cdm, CA
These crayons are a lot of fun! My daughter likes them. The only drawback is that because of the glitter, it's a little more challenging to color with them. She's 3 so I think when she is a little older she'll like them even more.
Rated by: Lara M. in Boise, ID
These are really cool crayons and pretty much impossible to find in local stores. My 3 year old likes them--and so do I! The sparkles show up on light or dark paper.
Rated by: Cindy L. in Thiensville, WI
Another great product by Crayola - my students love using them, so do I!
Rated by: katherine g. in huntsville, AL
i bought these glitter crayons for my daughter she is a prek teacher at daycare 4 year olds .she told me they only had a few glitter crayons and that they all wanted them.so i decided to buy them some.the best part they loved them and was so excited they sent me a thank you card made with the glitter crayons...thanks for bringing sunshine our way
Rated by: Michele L. in Cottage Grove, MN
The glitter crayons are a favorite among my 4,5 and 6 year olds! I had to buy extra packs to keep the fighting down during crafts. Great service and arrived undamaged. Thank you.
Rated by: Yvonne M. in Prescott, AZ
Glitter crayons - great for kids that want that extra sparkle in their drawings! Girls love these, but my sons does too for the metallic effects.
Rated by: Karen S. in West Chester, PA
I personally do not like to color with these crayons, but my 5 year old son prefers them. He loves seeing the glittery colors on his works of art.
Sorry, that is not a valid email address.
Please try again.
Thanks for subscribing to the
MisterArt.com email program!