Gesso Ground Dry Mix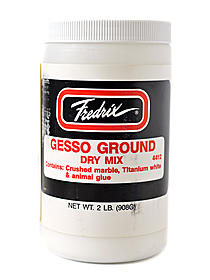 Contains crushed marble, Titanium White and animal glue.
Rated by: erin m. in dallas, TX
I love this product, very workable, beautiful surface responds to a variety of sanding and tinting techniques, easy to use, easy to clean up, and provides a very stable surface for paint or drawing. Why this is so hard to find in my area I don't know.
Rated by: mk g. in avila beach, CA
good product, great price.
Sorry, that is not a valid email address.
Please try again.
Thanks for subscribing to the
MisterArt.com email program!