Comic Strip Layout Boards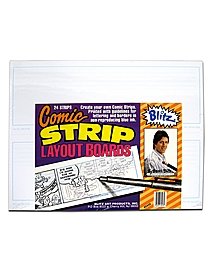 Printed with guidelines for lettering and borders in non-reproducing blue ink. 24 strips per pack.
Rated by: Nancy H. in San Francisco, CA
Haven't used them yet, but they look like they will be fun to try.
Rated by: Kathleen E. in Kittanning, PA
I have a 12 year old son who is constantly creating comic strips. Before the boards he was attempting to draw his own strip boards on sketch paper. After using these boards he'll never go back, and his creativity is flowing stonger than ever!!
Rated by: Stephen K. in Tulsa, OK
These strips are great! I have a comic strip and they work perfect!!highly recomend for artist or cartoonist.
Rated by: L D A. in Tampa, FL
These cartoon boards are great!! It gives students a REAL feel for the art form and the stock and weight of the paper is ideal for professional grade work. I thought that the size would be TOO small but my professional work turns out great!! If you use an Apple/PC these boards are the perfect size for a scanner!
Rated by: andy b. in Dallas, TX
These are great for quick cartoons and the layout is perfect for 3 panel strips.
Rated by: T.D. H. in Los Angeles, CA
The idea was very exciting in theory, particularly since it is a pain to do comic layouts. However, I had expected them to be in the large format that most comic strip artists use. Instead, it is more the size of the smaller versions seen in the comic section. These boards are fairly useless and cluttered for attention to detail, although it is quite sturdy stock.
Rated by: Keily L. in Washington, DC
I bought these for my 9 year old daughter who wanted to try her hand at cartooning. She hasn't quit since Christmas. I have had to buy many more. She loves them.
Rated by: Vicky M. in Chesterfield, SC
Just what I needed to get my comic strip started. Love it!
Sorry, that is not a valid email address.
Please try again.
Thanks for subscribing to the
MisterArt.com email program!