6 Inch Architect's Scale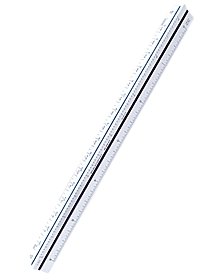 Color coded, pocket sized 6 inch plastic scale, divided: 1/32, 1/16, 1/8, 1/2, 3/16 and 3/4. With pouch. No. 560VS
Rated by: Emily J. in Notre Dame, IN
The only con to this scale is that it is almost identical to the engineering scale so you are constantly grabbing the wrong one. Love the 1/32 scale though it makes site plans a breeze!
Rated by: Charles M. in staten island, NY
Perfect ruler!! Excellent size and easy to carry.
Sorry, that is not a valid email address.
Please try again.
Thanks for subscribing to the
MisterArt.com email program!